Doing your best (most of the time) to maintain a healthy lifestyle should be your number one priority. It's a long-term investment in your body and your quality of life which can help to prevent illness now and into the future. Think about the long-term benefits of eating good nutritious food, as well as seeing results faster during your fitness journey.  But I get it: when you're making a whole-food switch, that first grocery bill can seem a bit high.
Eating healthy doesn't have to break the bank. You just have to approach it differently, and learn a few tricks to make your money go further. In fact, with a bit of planning and creativity, you can even save money compared to an traditional packaged diet! Plus, you'll feel so much happier knowing you're nourishing yourself properly.
Here are my top 5 tips for making the healthy switch more affordable, so you can get started ASAP!
1. Plan and prepare your meals
Preparation is key to success! Not only will making a plan help you waste less food and buy fewer unnecessary things, it'll also make you less likely to slip up and go for quick, processed foods during a busy week. Plus, packing a lunch for work will stop you from wasting money on a cafe takeaway. Win win!
2. Think bulk and seasonal
Buying fresh produce in season can save you loads of money. Just think of how much more expensive fresh berries are out of season. Be flexible and opt for an alternative, or buy frozen. You can buy bulk, which is cheaper overall than getting a few fruit and veg here and there. If you can't use it all within the week, think about ingredients (fruit, herbs, even chopped onion) that you can freeze for future use.
3. Grow it
It might just be a little box of herbs, a fruit tree in the garden or one tomato plant, but having a bit of fresh produce growing around the house will save you from buying those items at the grocery store. Even a little pot plant of parsley will mean one less cost for your fresh food shop.
4. Avoid pre-packaged, pre-cut or single-portion produce
Pre-cut and packaged vegetables seem like the easier option. The same goes for pre-cut meat for dishes like stir fries or skewers. But these usually have a higher price tag overall when compared to bulk buying. Taking the time to prepare these ingredients yourself will save you money in the long run.
5. Love leftovers and make big batches
Make leftovers part of your meal plan: cook double portions for dinner that can be the next day's lunch. It'll save you time and money. Another prep tip: if you've got the freezer space and some weekend down-time, choose a recipe that freezes well and make enough to batch for quick defrosting later. This is also a great way to make use of those bulk amounts of fresh veg so you don't have to spend a week eating only sweet potatoes. Just whip up something like the Vegetarian Shepherd's Pie (below) and freeze individual portions.
Bonus Recipe!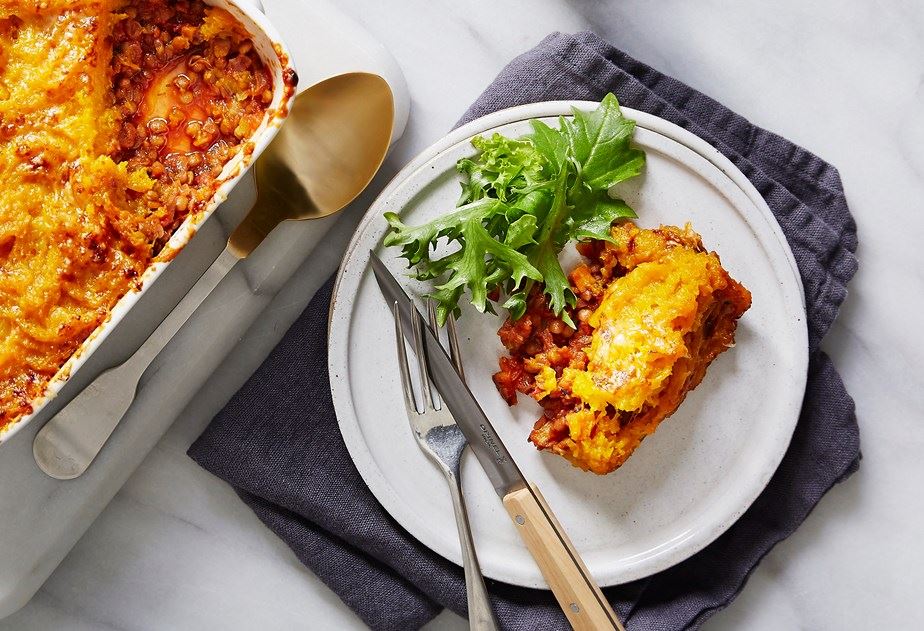 Vegetarian Shepherd's Pie
SERVES 4 | PREP 5 mins | COOK 40mins
Ingredients
700g pumpkin, cut in 3cm cubes
1 tbsp olive oil
1/2 cup ricotta
2 eggs, lightly whisked
2 tsp dried thyme
1.5 red onion, finely chopped
2 medium carrot, finely diced
2 stalk celery, finely diced
Canned lentils, drained & rinsed
Canned diced tomatoes
2 bay leaf
salt & pepper, to taste
60g grated Parmesan
Method
Preheat oven to 390°F and brush a rectangle pie dish with 1 tsp olive oil.
Place pumpkin in a saucepan of cold salted water, bring to the boil and simmer for 10 minutes or until cooked.
Drain, reserving some cooking liquid and allow to cool slightly. Add ricotta and egg to pumpkin and mash together.
Meanwhile, heat remaining oil, thyme and onion in a skillet and cook for a few minutes or until onion has softened.
Add carrots and celery and continue to cook until soft. Add lentils, bay leaf and tomatoes and simmer for 10-15 minutes. Remove from heat, season with salt & pepper and stir through grated Parmesan.
Spread mixture evenly into dish, top with mashed pumpkin ricotta mix and cook in oven for 15 minutes.